Maria Montessori's original color box materials were made of silk wound on spools. The tablets are designed so that the child matches the colors, first using pairs of the three primary colors: red, yellow and blue for Color Box 1 and eventually works up to pairing eleven sets of colors: red, yellow, blue, green, orange, purple, black, white, brown, pink and grey for Color Box 2. Once the child can identify the pairs, then he is presented with graded sets of colors for Color Box 3 so that colors can be graded from lightest to darkest.
See Sensory Education p.29: Scroll down to
Color Spools
from Dr. Montessori's Own Handbook and
Differential Visual Perception of Colors: Education of the Chromatic Sense
p. 170-171 from The Montessori Method.
AIM OF THE MONTESSORI COLOR BOX MATERIAL
I love the explanation of the aim of this material from the
Support Future Artists blog
:
"Before the child is given the language of these common colors, he is invited to match corresponding tablets, exercising the ability to discern the difference. Once the child has mastered this visual sense, he is equipped with the language needed to communicate about the colors. In this way, the colors become concrete parts of who he is, before they are given the arbitrary identifying names, In many traditional settings the child first learns, "This is blue." This limits the child's understanding of the color as a meaningless term given to a pigment. Allowing him to visually engage the color first, matching like shades, engrains the truth of the color in his experience. The hope is then that this child has a greater understanding of color, which will manifest itself throughout life.
- Understanding Montessori: The Senses
It is also interesting to note that Montessori herself stated:
"It is exactly in the repetition of the exercises that the education of the senses consists; their aim is not that the child shall know colors, forms and the different qualities of objects, but that he refine his senses through an exercise of attention, of comparison, of judgment."
- The Montessori Method
MONTESSORI COLOR TABLETS
MATERIALS: Today's color box materials are most commonly made by painting colors on flat wooden spools.
Color Box 3 Lesson at Montessori Album
The following are my Montessori inspired materials. The first set is made from tackle box dividers wrapped with embroidery floss and can be used for Color Box 1 & 2 presentations. The 2nd set is my version of Color Box 3 and I only use eight sets of six colors graded from light to dark, which can be used with labels light, lighter, lightest and dark, darker, darkest. The 3rd set is my version of 4-part cards for color nomenclature.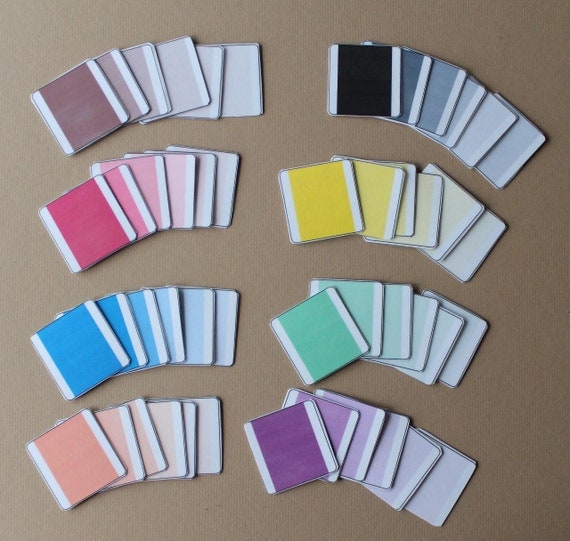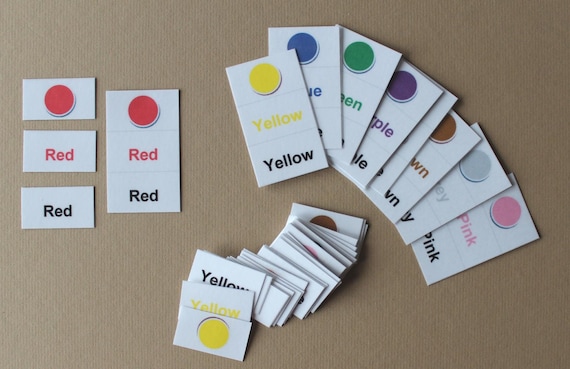 PRESENTATIONS:
Color Box 1 and the Three Period Lesson
from Community Montessori School.
Color Box I and II
from My Montessori Works
Color Box II
by At Home Montessori
Color Box III
by rozaraqua
Color Box III
rays extension by Eric Johnson
Color Box III
extension - 3 patterns by Country Heights Montessori
Color Box IV
by Gargee Bhandare Wadhwani
FOR TODDLERS:
Imbucare Box with Colored Knit Balls
Colored Balls and Boxes
by Genavieve M
Colored Bags and Yarn Balls
by Living Montessori Now
Color Shade Matching
by Paint on the Ceiling
At
Causes of Color
there is a brief history of the early studies in color theory:
In ancient Greece, Aristotle developed the first known theory of color. He postulated that God sent down color from the heavens as celestial rays. He identified four colors corresponding to the four elements: earth, fire, wind and water.
Leonardo di Vinci was the first to suggest an alternative hierarchy of color....He listed his six colors in the following order: white, yellow (earth), green (water), blue (air), red (fire), and black.
However, color theory began with with Isaac Newton in 1666. By using two prisms he observed white light as the composition of all the colors of the rainbow which could be identified and put into order. He called the array of colors form the glass prism a spectrum and assigned seven colors to it, which we commonly know today as ROY-G-BIV (red, orange, yellow, green, blue, indigo, violet)
The actual color wheel as we know it today can be credited to Johannes Itten, a Swiss painter and teacher.
Itten's Color Wheel
, created in the early 1900's, was the first to contain 12 colors: 3 primary, 3 secondary, and 6 tertiary colors. Itten is also known for his association of colors with specific emotions and for his successful artistic applications of color contrasts.
You can read more about
What is the Color Wheel
at Hub Pages
... an awesome resource by the way! and here's a link to an awesome book Applied Art c.1933 with great explanations on color theory.
COLOR WHEEL ACTIVITIES and LINKS
You have to check out these unique applications of the color wheel from Ms. Snow's Digital Photography class
HERE
, with colored pencils, food, leaves, acorns and shoes! Haha - here's a
Lego Color Wheel
, and how about a
Pantone Color Wheel Rubik's Cube??
. Or a color wheel of clothes...
COLOR ACTIVITIES:
Color
basics from Wikispaces
Crazy, but these
blotter bugs from KinderArt
were favorites with my kids.
Color Wheel for Kids: Demonstrations and Projects
from eHow
A
Crayon Color Wheel Art Project
Maybe you should try a "family color wheel" treasure hunt and see what you come up with!
Here's a few more links you should check out:
The Color Wheel with Play Dough
from Our Montessori Home
Montessori and the Wonderful World of Color
by MontessoriMom
Montessori Color Mixing Activities
by Living Montessori Now
Art Education - Elements of Art - Colour Theory
by Making Montessori Ours